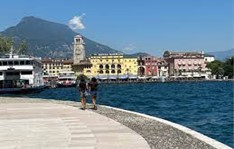 Today, on the recommendation of the receptionist, we started our day with a lakeside stroll, departing from the Ambassador Suite Hotel towards Piazza Catena to catch the boat heading to Limone sul Garda. The sun and the lake infused us with tranquility, while the reflection of the mountains on the water gifted us a splendid panorama. Once we reached the pier, we purchased our tickets at the ticket booth and boarded. We opted to sit outside to fully enjoy the landscape and the breeze during the journey. The trip was beautiful and relaxing in a wonderful setting.
After about half an hour, we arrived in Limone. Here, we strolled through the narrow, typical village streets, admiring the local architecture and craftsmanship. For lunch, we couldn't resist trying the local dishes based on lake fish, polenta, and cabbage, accompanied by excellent DOC wine and the ever-present limoncello produced in the lemon groves surrounding the area.
We had wanted to take part in one of the guided tours organized inside the renovated lemon groves that intertwine within the village, but unfortunately, time didn't permit it as we had already planned a visit to the Garda lakeside cycle path.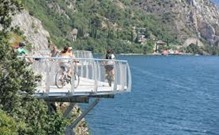 We covered approximately a couple of kilometers along the lakeside, on a partly paved and partly unpaved trail, to reach the beginning of the 2.5 km-long cycle and pedestrian path, from which you can enjoy breathtaking views. Walking on the edge of the void, you can admire the surrounding mountains, the vastness of the lake, and the splendid horizon. The only drawback perhaps is that the cycle path doesn't reach Riva del Garda; you have to return towards Limone and take the boat again to get back. In fact, there are still about 6/7 kilometers under construction, but it will take a few more years.
Once the work is completed, it will undoubtedly be a marvelous spectacle, and I will return to do the entire circuit with a walk back.Back at the Ambassador, we were finally able to refresh and relax; a dip in the pool, a bit of hydro-massage, and an Aperol Spritz at sunset rounded off a fantastic day.