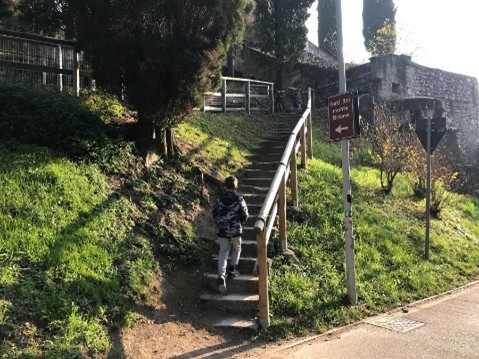 We stayed at the Ambassador Suite Hotel, and every morning we had this beautiful view of the olive trees from our balcony. We inquired at the reception, and they recommended a panoramic trail through the olive groves that we had seen, so we couldn't resist. We took all the maps they kindly provided us, refilled our water bottles for free (a hotel service), and set out.
The starting point is only 250 meters from the Ambassador Suite Hotel. You can start from the parking lot in front of the police station along the paved road or from Porto S. Nicolo, to the right of the fort, behind the diving group headquarters, via a long staircase. At the first turning point, the Path of Peace with steps begins, running along the entire ridge of Monte Brione on the east side, offering a spectacular view of the lake all the way to its farthest end.
After about 15 minutes, we reached Forte Garda, an Austro-Hungarian military fort built in the early 20th century and completely restored. It can also be visited from the inside by signing up at this link every Friday morning from May to September. It's truly an interesting excursion and not at all boring, even for children.
Continuing along the path with panoramic views of the lake and the entire Garda Trentino, we crossed part of the biotope, a protected area due to the diversity of plants, which, despite the high altitudes, are typical of the Mediterranean maquis. Upon closer inspection, we could discover more than 150 different species of orchids… a real treasure.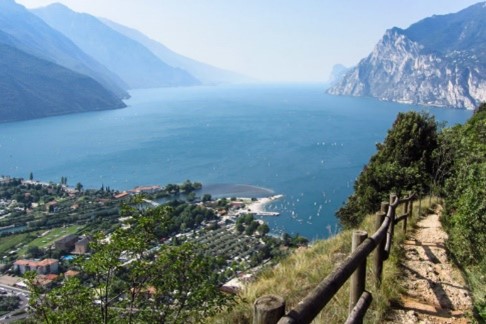 Almost at the summit, we found another fort, Batteria di Mezzo, a strategic point for military control that provides us with a view of the area from the plain to the Dolomites. Along the way we find more military ruins, some engravings, and the occasional fossil, reminders of a distant past beneath the sea level.
The return journey can be along the paved road, leading us back to the starting point, or, as we did, through the winding paths amidst the olive groves, taking us to Villa Lutti di S. Alessandro, the mansion of the former owners of the area. Via one of the numerous cycling paths that characterize the entire Upper Garda area, we returned to our beloved Ambassador Suite Hotel to enjoy a refreshing drink in the garden and admire the scenery of our just-completed hike.